Electro-Harmonix Superego Plus is a sustain pedal that lets you freeze any sound with the tap of a foot.
The Superego Plus pedal can work like the sustain pedal on a piano. It can elongate the sounds of notes, allowing you flow between notes and letting you stack notes into chords (even on monophonic instruments).
That's worth the price of admission alone. But it also has a considerable number of effects (11 of them!), which is a big plus of the Superego Plus. It even has an effects loop.
We think the Superego deserves its big ego. Read below to:
See what all it can do
Learn how to use it
Find out how to modify for extra options
Evaluate if it's a sound investment
Compare it to Gamechanger's Plus pedal
Specs
These are the official specs from Electro-Harmonix.
Creates synth effects, sound layers, glissandos, infinite sustain and more
Four Freeze modes
Built-in effects section with 11 effect types
EXP input for effect parameter control
EXP Presets sweep between snapshots of 7 knob parameters; create and save one set of snapshots for each FX type
Live Effects mode where the dry signal is routed thru the built-in effects and the internal synth engine is disabled
EXT jack for a 3-button controller
EHX 9.6VDC-200mA power supply included
Current Draw: 140mA @ 9VDC
Dimensions in inches: 4.75(w) x 5.75(l) x 2.5(h) / mm: 121(w) x 146(l) x 64(h)
Superego+ Manual PDF and Link
You can read the complete Superego+ manual here. Like all of Electro-Harmonix's manuals, it's short, clear, and to the point. It's also available by PDF here.
If you prefer learning from video tutorials, we've also selected the best that are out there.
How Do You Use the Superego Plus Pedal?
The Superego+ has two primary functions: sustaining and adding effects. It is primarily used as a sustain (or freeze pedal).
The pedal can sustain or freeze any incoming sound, including:
Guitar or bass
Synthesizer or piano
Voice or wind instrument
Musicians go different directions with this sustained sound, but some popular examples include:
Sustaining a chord to solo over (or practice scales)
Turning down the dry signal to create a padded (i.e., slowly louder/slow attack), effected sound
Creating chords with monophonic instruments or voices
Making ambient sound
Of course, there's really no limit to what you can do – from practicing scales to making incredibly complex chords or eerie sonic atmospheres.
Instructions for Using Superego+'s Sustain Modes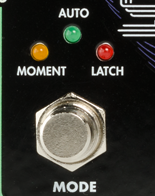 The sustain functions are divided between four sustain modes. You switch between these modes by pressing the Mode switch (on the bottom left of the pedal).
The lights indicate which is your current Mode.
Moment Mode (Moment light illuminated)
Your sound is frozen as soon as you press Bypass. As soon as you release the pedal, the sustain begins to fade.
Sustain Mode (Moment + Auto lights illuminated)
Pedal functions like a piano's sustain pedal. If the Bypass switch is held down, the Superego+ will freeze notes as you play them.
When you take your foot off the Bypass switch, it stops sustaining.
Auto Mode (Auto light illuminated)
The pedal automatically sustains the notes you play.
If you hold the Bypass button while a note is being sustained, it will stop adding new sounds to the sustain effect so long as the button is down.
Latch Mode (Latch light illuminated)
The signal is sustained as soon as you press Bypass. It will continue to "latch on" even after you release the Bypass button.
Press Bypass again to add another sound.
Double tap to fade out.
Live Effects Mode (Moment + Auto + Latch lights illuminated)
In Live Effects Mode, the incoming dry signal goes through the pedals on-board effects. You cannot sustain sound while in Live Effects Mode.
Playing tips:
Modify the Threshold knob to set how loud you must play (i.e., the volocity) before the sustain effect begins.
The effects chain goes: Superego+ internal effects > external effects loop.
Control how quickly your sustained signal fades out with the Decay knob.
For a more gradual fade-in of your sustained signal, turn your Dry level down and the Attack up (clockwise).
Use an expression pedal!
Superego+'s Effects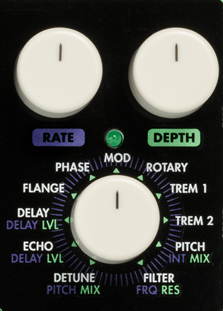 The effects sound very good. The simple fact is you get Electro-Harmonix's excellent sound engineering inside this pedal.
The effects can all be controlled with an external expression pedal (or the modify wheel of any MIDI keyboard). This is an enormous plus on top of the Plus that opens up new sonic plains for you.
The following is from the manual:
• DETUNE: pitch detune, EXP pedal controls pitch
• DELAY: warm, analog sounding delay, feedback is preset, EXP controls delay time up to 2 seconds
• ECHO: pristine digital delay, feedback is preset, EXP pedal controls delay time up to 2 seconds
• FLANGE: Electric Mistress style w/filter matrix, rate and feedback. EXP pedal controls rate
• PHASE: Small Stone style phase shifting with rate and depth control. EXP controls rate
• MOD: pitch-based vibrato or chorus. EXP controls rate
• ROTARY: rotary speaker style sound. Depth controls tweeter/horn balance. EXP pedal controls rate
• TREM 1: sine wave tremolo. EXP controls rate
• TREM 2: square wave tremolo. EXP controls rate
• PITCH: pitch shifting effect over a +/- one octave range. EXP controls whammy
• FILTER: resonant low-pass filter. EXP pedal controls frequency
Effects Presets and Expression Pedal
You can set up a preset control up to 7 parameters at once. And you can easily modify those parameters with an external expression pedal.
For playing at home and light gigs, we like M-Audio's Expression pedal. It's sturdy enough for most needs (unless you're thrashing on a stage), and it's plug-and-play with the Superego+.
Use the templates in Electro-Harmonix's manual to mark your personalized presets. You can also just download the page you'd need here:
That way you can mark where your parameters need to be with different presets.
(You can only store one preset at a time in the Superego+, so it's good to print this out and have these sheets handy.)
Add-ons for the Superego+
In addition to its built-in effects, the Superego+ has an effects return in and out. This means you can add effects to your sustained sound or your input sound.
Here are some popular choices for adding more shape to your sound.
Electro-Harmonix's Mel 9 Tape Replay Machine
Creates 9 different melodic sounds:
Orchestra
Cello
Strings
Flute
Clarinet
Saxophone
Brass
Low Choir
High Choir
Electro-Harmonix's Synth 9 Synthesizer Machine
This little box creates 9 synth sounds:
OBX
Profit V
Vibe Synth
Mini Mood
EHX Mini
Solo Synth
Mood Bass
String Synth
Poly VI
Electro-Harmonix's 8-Step Program Sequencer
At the outset, you can set up a sequencer to modulate the in-signal.
Specs:
Four sequence direction modes: Forward, Reverse, Bounce and Random
Rotary encoder gives you control over glide rate, direction, sequencer length and depth
Save, store and recall 10 presets.
Optional 8 Step Program Foot Controller expands that to 100 presets!
Check out Daniel Fisher unlocking some sonic pairings with the equipment above:
Superego+'s EconoMix
One thing we like about the Superego+ is how it opens up possibilities for your other gear.
For example, if you love the tone of your monosynth but really want to make chords, the Superego+ can save you from having to make a new purchase.
That save you space, time learning new gear, and money as well. Check, check, check.
The Superego+ can also replace a number of pedals. While it doesn't give you all of the controls of individual pedals, each effect does have two parameters. (Personally, I sold my Pitchfork because Superego+'s pitch shifting does the job for me.)
Below you'll see our evaluation based upon Sound-EconoMix.com's Trifecta: Space, Time, & Finances.
1. Space Economics
While the Superego Plus is larger than a standard pedal, you get an immense amount of bang for your buck.
The Superego Plus gives you 11 effects. And what's even better, you can alter certain parameters on multiple effects by using the expression input.
In addition to saving space on your pedal board, this saves space in your gig bag. If you don't need to change effects mid-song, the Superego+ gives you 11 effects that are just a tap away (plus the sustain engine).
What Pedals Can these Effects Replace?
DigiWhammy / Pitchfork
Flanger: Electric Mistress
Phaser: Small Stone
Tremolo
Bright Delay
Analog delay
Chorus
2. Time Economics
The Superego Plus can basically be divided in half. The left half has all of its freeze/sustain functions, and that's why most people buy it.
Can you learn to use the Super Ego Plus quickly?
Definitely. It has 4 sustain modes, and you switch between those quickly with a tap of the left button.
No screens. No need to bend down or take your hands off the instrument. No menu diving.
You can learn everything about the pedal in about 15 minutes. Then you can spend the rest of your life carving sonic space with it.
The most complicated aspect of the Superego Plus is probably customizing your effects parameters. You don't have to do this, but it's worth your time, particularly if you're looking to replace some pedals with the Superego+.
(Again, an expression pedal is really recommended for this.)
3. Financial Economics
The Superego+ is not a budget pedal, but it gives you an enormous number of functions and great quality for its price.
Electro-Harmonix is a trusted brand. Their gear is solid, metal, and well-built (even if a bit bulky).
Their sounds are becoming iconic (e.g., Muff, Preacher, Memory Man, Canyon, POG, Holy Grail, etc).
So this isn't something you have to worry about breaking or sounding dated in a few years. That's a sound investment in our books.
We think it's worth spending up for the Plus over the cheaper, non-plus-sized Superego. The Superego+ has important controls to dial in your sound.
And you can even sell off some pedals and just use the Superego+'s effects. While you might want more specialization for delay, the tremolo (1 and 2), flanger, phaser, detuner, and pitch shifter really leave nothing to be desired.
Comparison: Gamechanger's Plus Pedal
Gamechanger Audio's Plus pedal is a beautiful pedal with some great functions. In terms of aesthetics, it beats the Superego Plus hands down (well, sorta…see below).
For some sounds, the Plus pedal may be preferable. Loopop gives a great A/B comparison below.
However, due to Gamechanger's Plus pedal's very short sample time, you might get a lot of glitchy sounds on it compared to the Superego Plus. Any rattle on a string, for example, will really overtake your sound.
But there is a major advantage of the Superego over Gamechanger's Plus pedal, and that is in the lower frequencies. Gamechanger's Plus pedal really cuts out lower frequencies (unfortunately their specs don't list the frequencies anywhere).
On the other hand, the Superego Plus preserves those low frequencies. So if you're a lover of the bottom end, that makes your choice a no-brainer.
But that Gamechanger Plus Pedal is So Pretty…
While we don't spend too much time on aesthetics at SoundEconoMix.com, we know aesthetics matter.
Part of the appeal of the Plus pedal is that it's just so sexy. And hats off to Gamechanger for making a game-changing pedal. Nothing looks like it.
And who's not attracted by that nice, exposed brass pedal and those metal knobs?
It's the Apple of sustain pedals in a world of bland-looking PCs.
Pimp Your Superego Plus with a Sexy Pedal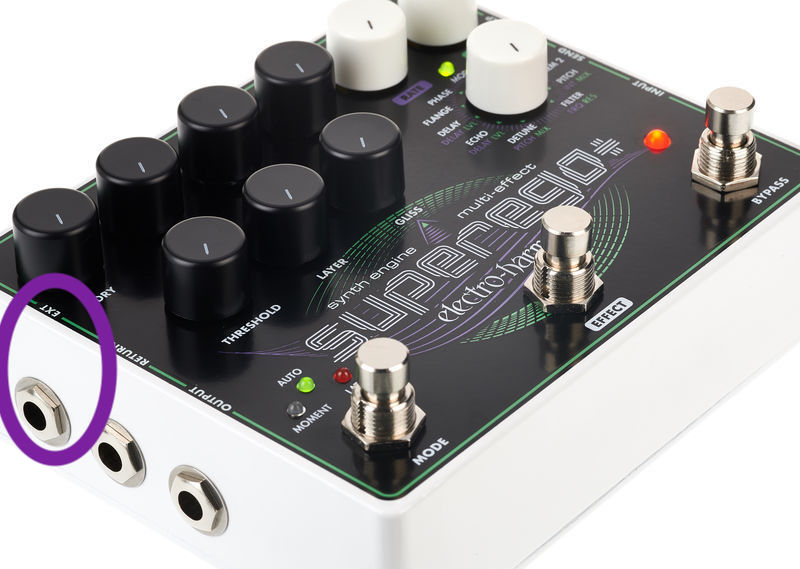 But if you want the sustain capacities plus effects of the Superego+ and a cool-looking sustain pedal, we have a hack for you.
The Superego+ has an Extension input on the left side that controls the Bypass button.
That means you can use an external pedal to control that function (and even tuck your Superego+ out of the way if you want).
There are a number of extension pedals you could use. But this one from M-Audio does the job nicely. It's cheap, reliable, and looks good.
In fact, they're cheap enough that you could get creative with it. Cover it in wood, metal, or stick-on googly eyeballs. Turn that sustain pedal into a self-expression pedal!
Or, other options include:
Criticism
There is no real criticism of the Superego+, but these are some things to consider.
While features like a MIDI in (for time synching) would be useful, that would likely bump the price up considerably.
The ability to store more presets would also be nice.
And while the footprint is rather large, it is the Goldilox-perfect size for accessing the three crucial buttons without misstepping.
Conclusion
The Superego+ is not just a fun pedal, it is a useful tool. It's great for practicing scales, and it can also open you up sonically.
The Plus part of the Superego+ are definitely worth the money. The added effects are of the high quality we expect from Electro-Harmonix. And you can even reduce some clutter by using the Plus instead of some other pedals.
In terms of space-, time-, and financial-economix, the Superego+ is a sound investment. It's of those rare pedals that don't just shape your sound, but help you create sound universes.
Sound too godlike? That's why it's the Superego Plus!
Thanks for reading! If this was useful for you, please consider supporting the site through Paypal.
If you could please use the links, it'll help the site out (and you still get normal prices). Thanks!
Frequently Asked Questions
What do musicians do with a Superego Plus pedal?
Most commonly, it is used for:
Sustaining a chord to solo over (or practice scales)
Turning down the dry signal to create a swelling, effected sound
Creating chords with monophonic instruments or voices
Making ambient sound
What instruments can you use with the Superego+?
A better question might be, "What instrument can't use the Superego+?"
In this section from his demo, Daniel Fisher uses a guitar, bass, sythesizer, and sequencer (plus reverb and synth in the effects in/out).
Does the Superego+ have a MIDI input?
No. But you can control input timing by using a sequencer on your input line.
You can also use a clock signal to trigger the Bypass switch. You need to run the clock signal through the a TIP connection to the Extension input. Superego+ will translate the falling edge of each negative-going signal to a pressing of the Bypass switch (regardless of what Mode you're in).
Can you use a sequencer to control the Superego+?
You can control some parameters through a sequencer. For example, you can use the Velocity control on a sequencer to control when the Superego+ latches a sound by modifying the Threshold knob on the Superego+.
Effects like delay cannot be precisely synched with MIDI, but you can control the delay time with an expression pedal.
How many presets can the Superego+ store?
You can only store one preset for the pedal, but your parameters can be quickly modified.
Should I get the Superego or the Superego+?
Ah , the great Superego vs Superego+ battle. Our advice is that the added feature of the plus make it well worth the extra money.
These are the added features that we think make it worth it:
11 effects
Threshold control
Expression pedal input
Extension input
It's not much more expensive for all the added features.
What kind of adaptor does the Superego+ need?
Superego+ includes a 9.6DC-200BI power supply (200mA). The Superego+ requires 140mA at 9VDC with a center-negative plug.
That means you should be able to run it off of most -but not all – power packs.
Underpowering your Superego+ can damage the unit. Be sure that your power supply has at least 140mA. Some are only 100 or 120.
Disclosure: Sound-EconoMix is a participant in the Amazon Services LLC Associates Program, an affiliate advertising program designed to provide a means for us to earn fees by linking to Amazon.com and affiliated sites.