[This page is still in the works, so feel free to comment below as it's taking shape.]
Grooveboxes are portable, versatile, and just fun. You can spend anywhere from $85 to $1,400 on one, but spending more does not always get you more.
In this article we're going to look at some of the leading higher- end grooveboxes – so in the $600-1,400 range. To see grooveboxes at a lower price bracket, see our Guide to the Novation Circuit.
The Groove-boxing Match
To our minds, there are two strong contenders: Synthstrom's Deluge and Akai's MPC One.
The Deluge and MPC One are very different beasts, diametrically opposed in some ways. But if you can identify your tendencies toward or the other, that might help you narrow down toward your choices.
There is around a $300 price difference between them, but spending up isn't always better (depending on what you want).
As you're searching to fill your heart-shaped groovebox, you might find it useful to compare the Deluge and MPC.
What is a Groovebox?
People have different notions of what a groovebox is, but here are some relatively safe criteria.
A groovebox is:
Independent: it does not need a DAW (Digital Audio Workstation) to work.
Portable: you can slide it completely beneath the seat in front of you on a plane. You can even fit it on that tiny excuse for a table they give you. You can carry a groovebox easily in one hand, even if after chest-n-biceps day at the gym.
Able to pump out rhythm (percussion) and melody (synths). Otherwise, it's a drum machine or synth, but not a groovebox.
Able to send and receive MIDI.
Happy to be plugged into a computer or sound system. You should be able to perform without embarrassment in front of an audience with a groovebox.
Any groovebox should meet those criteria. But we're now looking at non-budget grooveboxes (most around $700-$1,200). Here we also expect:
Advanced sampling options
SD storage
Some kind of screen
Not immediately intuitive: takes some serious time investment
So in this article, that's what we mean by a groovebox. That's why we don't consider synths and drum machines grooveboxes.
Synthstrom Deluge
Synthstrom's Deluge can do most anything you'd want a groovebox to do.
What you get with the Deluge is an immensely versatile, very powerful machine. Synthstrom put an incredible amount of thought into the Deluge and – in terms of design – really thought outside the groove box. It looks unlike anything else out there.
Spacially, the Deluge is an extremely well-planned groovebox. So, with relatively few knobs and a rudimentary screen, you can do most anything you'd like with the Deluge with minimal menu-diving.
The anticipated negative aspect of Deluge's unique systems is that you will have fewer crossover skills from other gear: expect to hunker down for a while to get all you can out of this magnificent box.
Pros
128 pads let you see what's happening in the sequence
Button combinations allow quick tweaking with minimal menu-diving (once you learn it!)
Multiple intuitive views
Great live looping and sampling
Very dedicated community
Super compact
Runs off USB
Cons
Buttons are not velocity sensitive, no aftertouch
Very limited, non-touch screen
Limited external MIDI control (though may be corrected with future firmware)
Paying shipping/import taxes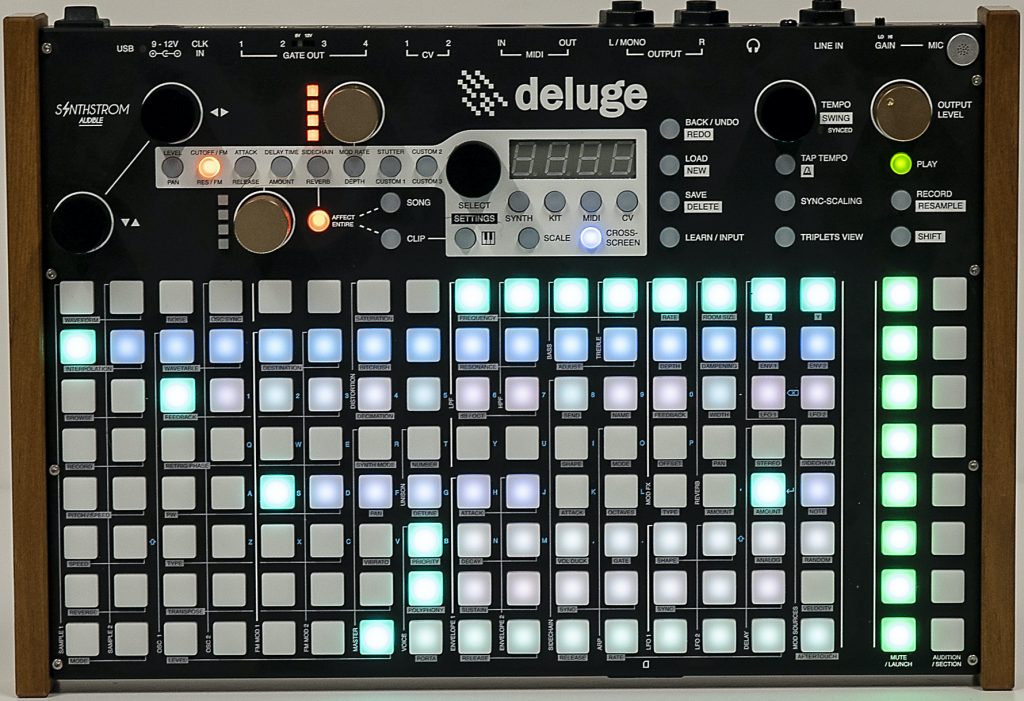 To get a first glimpse of the Deluge, let's watch it at work:
So far, we see much that looks familiar:
Grid-based sequencer for synth and drums
Live entry and use of the sequencer
2 synths (running monophonic here)
Automation recording of effects
And then we part ways with groove boxes like the Novation Circuit the Deluge's longer memory (which allows longer loops and sampling) and options like sample splicing.
The Deluge can do a lot more than we see in that overview video. Let's take a look under the hood first to see what's there. Then we'll look a bit closer at what it can and can't do.
SYNTHESIZER
Full-featured internal synthesizer engine (subtractive and FM)
Polyphony limited only by CPU. Up to 64 synth voices may play simultaneously
Live adjustment of synth and effect parameters with two endless-turn encoders with LED level-meters

Easy buttons to select the functions these control

Parameter automation recording
Arpeggiator
Dedicated volume and tempo knobs
LFOs and envelopes on each synth / sample. Highly customizable modulation matrix
Synthesizer engine features LPF / HPF, FM, portamento, oscillator sync, ring modulation, unison detune, and more
Four basic digital waveforms, two analog-modeled waveforms, or select any WAV file from SD card
12dB/oct and 24dB/oct filters, with optional filter drive mode
FX including delay, reverb, chorus, flanger, phaser, bitcrusher, sidechain effect, live stutter, and more
Keyboard mode, where the pads become a live instrument on a 2D grid
Preset or custom scales, or chromatic mode
Live processing of the audio input including polyphonic pitch shifting (according to sequenced notes), filters, and all FX
SEQUENCER
Piano-roll-style sequencing on 128 full RGB pads (16×8) with scrolling and zooming
Launch, mute and interact with tracks live
Arranger view, to sequence your instrument parts into a longer composition, and work with audio clips similarly to a DAW
Sequencing limited only by device RAM (over 2 million notes)
Resolution can be set as high as 6144th-notes
Simultaneously output separate sequences to all 16 MIDI channels, 2 CV / gate channels and 2 additional gate outputs, in addition to internal synthesizers / samples (limited only by CPU)
CC control and sequencing on all 16 MIDI channels
Probability and iteration based step / note conditions
Undo / redo note and parameter automation editing and recording. Number of undo steps limited only by RAM
Advanced syncing capabilities. Non-standard time signatures supported, polymetric
Adjustable swing
Horizontal pattern shift and note nudge, and note repeat
MIDI program change and bank select messages may be output
SAMPLER
Streams all samples directly from SD card, without limitations based on RAM size
Up 90 unaffected sample voices may play simultaneously
Multisampling. Fast folder import with automatic pitch detection
Time-stretching and pitch-shifting
High quality sample interpolation and rate conversion via 16-point windowed sinc
Waveform view on main pads, with scrolling, zooming, and loop point editing
Same filters, modulation matrix and FX as synth engine
Resampling
Slicer feature for cutting a sample into evenly sized slices
Here's a good overview of the sampler:
And to see it at work with some everyday household items, check out Whales Have Teeth's vid:
AUDIO CLIPS AND LOOPING
Live looping of audio and instrument / MIDI clips, including easy overdubbing / layering, and automatic tempo setting
Audio clip live looping includes option to record additional audio "margins" either side of loop (from before you even pressed record), to allow a brief crossfade to eliminate click at loop point
CONNECTIVITY
Two ¼" line outputs, and 3.5mm headphone output
3.5mm mic input, ¼" line input, and built-in microphone
2x CV outputs. 0 – 10V, individually configurable to between 0.01 and 2.00 volts per octave, or to hertz-per-volt
4x gate / trigger outputs individually configurable to v-trig or s-trig, with shared voltage switchable between 5V and 12V

Trigger clock output, configurable up to 192 PPQN
Trigger clock input, also with adjustable PPQN

MIDI input and output via hardware connectors or USB. Syncing via MIDI beat clock as leader or follower. Optimized for very low jitter
Powered via USB B (cable included) or 9 – 12V centre-negative (pedal-style) power supply (500mA) (not included)
Can host USB MIDI devices via B-to-B cable – up to 4 if using a USB hub. Only powers these devices when powered by 9 – 12V supply
User-upgradeable firmware – development is ongoing at Synthstrom Audible
Internal speaker
Rechargeable Li-ion battery (6+ hours of operation)
1 x SD slot (1x 32GB V10-speed SD card supplied)
DIMENSIONS
Dimensions: 305mm x 208mm x 46mm (12 x 8.2 x 1.8 inches)
Weight: 1.5kg
Deluge Tutorials
These are some of the best tutorials we've found.
Recommended Reviews, Demos, and Tutorials for Deluge
There are many outstanding tutorials about the Deluge, which are evidence of 1) its incredible versatility, 2) depth, and (related to these first two qualities) 3) complexity.
Official (Synthstrom Audio)
Ron Cavagnaro
Ron has a playlist of 88 Deluge tutorials (and counting). These are neatly divided into topics so you can search to find what you want.
Loopop
Mr. Wiggly
BoBeats: "first time with the Deluge" (2019)
Red Means Recording
Some good specific tutorials:
Sampling Tutorials
Some good demos:
Deluge Manual PDF and Firmware Updates
Firmware Update Videos:
Deluge battery install instructions
Akai Professional MPC One
On the other end of the groovebox spectrum is Akai's Professional MPC One. At a glance you can tell how far away it is from the Deluge and most other grooveboxes, including the Elektron group.
What perhaps stands out most about MPC One is that nice, bright, touch sensitive screen?
Now, some might say that the presence of a screen inhibits this from being considered a groove box. But we're including it here because it is at the opposite end of the spectrum from the Deluge. So you can decide how much screen you want, and pick accordingly.
Even for non-purist, the MPC One's interface looks and acts a lot more like a DAW than a traditional groovebox.
And, if you're not looking for the connectors on the Akai's rear, you might ask yourself: What really are the advantages of the MPC One over my iPad with Garageband?
But let's see Akai's MPC Professional One in action. Here's an overview of what you can do with an MPC One.
And here LoopOp takes you under the hood to show you how to become one with the One.
Pads
(16) velocity- and pressure-sensitive pads, RGB-backlit
(8) banks accessible via Pad Bank buttons
Knobs
(4) 360° touch-sensitive Q-Link Knobs
(4) Q-Link Knob columns accessible via Q-Link button
(1) 360° encoder for display navigation and selection via push
Buttons
(31) dedicated function buttons; red-, amber-, or green-backlit
Display
7.0" / 177 mm (diagonal)
5.9" x 3.7" / 151 x 94 mm (width x height)
Full-color LED-backlit display with touch interface
CPU
Processor: Quad-core ARM® processor
RAM: 2 GB
Storage: 2 GB user storage, 2 GB pre-installed content
Connections
(2) 1/4" (6.35 mm) TRS inputs (1 stereo pair)
(2) 1/4" (6.35 mm) TRS outputs (1 stereo pair)
(1) 1/8" (3.5 mm) stereo headphone output
(1) 5-pin MIDI inputs
(1) 5-pin MIDI outputs
(4) 4 TRS CV/Gate Jacks, 8 Outputs Total
(1) USB Type-A port
(1) USB Type-B port
(1) SD Card slot
(1) Power Adapter input
Power
Via power adapter: 19 V, 3.42 A, center-positive, included
Dimensions (width x depth x height)
10.7" x 10.7" x 2.1"
272 x 272 x 53 mm
Weight
Quick Comparison: Synthstrom Deluge and Akai MPC One
You can see how, in many ways, the Deluge and One are opposites. Seeing their differences side-by-side may help you decide if you want to go for one of these extremes, or if you'd prefer something in the middle.
Deluge
Many pads, limited knobs, no real screen
Workflow: fast, once you learn the shortcuts
Musical result: will need tweaking in a DAW; retains "analogue" artifacts
Experience: Feels more analogue
MPC One
Large touch screen, more limited pads
Workflow: remains medium, tied down by some menu-diving
Musical result: Seamless translation to DAW via MPC DAW
Experience: More digital, screen-based
Roland MC-707
Roland's MC-707, with dedicated, per-track knobs and faders, is one of the more intuitive grooveboxes. Though it has some tricks up its sleeve, it is a more "what you see is what you get" groovebox.
So look for a quicker learning process, which lets you start making music faster.
While in terms of functionality it's placed somewhere between the Deluge and MPC One, it's priced much closer to the Deluge.
The limitations are perhaps disappointing for some – no song mode or sample splicing, for example. But the Roland is a fast-working powerhouse that retains some great aspects of the two grooveboxes above.
Here's the official overview from Roland:
Specs
ZEN-Core sound engine with up to 128 voices
8 Parts
8-Track sequencer with up to 128 steps
16 Clips per sequencer track
Up to 8 loop tracks with time stretch and pitch shift
3000 Preset sounds and 80 drum kits
Import user samples and loops via SD card
Record samples via line/microphone inputs
Available storage space for user samples: 12 minutes in mono, 6 minutes in stereo (@ 44.1kHz)
Supported formats for user samples: WAV file (mono/stereo), 16/24 bit, 32 – 96 kHz
Effects: EQ and multi-effects per part (90 different effect types)
Master Effects: Compressor, EQ, Reverb, Delay and Chorus
Record knob movements on each track
Convenient programming via 16 backlit velocity-sensitive pads, TR step sequencer, 8 backlit faders and 3 knobs per channel
Graphic display (256 x 80 pixels)
Easy to switch tracks, patterns and loops with a DAW via USB connection
Integrated USB audio / MIDI interface
Dimensions (W x D x H): 426 x 263 x 60 mm
Weight: 2.1 kg
External power supply unit and SD card included
Connectors:
Stereo mix out: 2x 6.3 mm jack
Assignable out: 2x 6.3 mm jack
Stereo headphone output: 6.3 mm jack
Stereo send: 2x 6.3 mm jack
Stereo return: 2x 6.3 mm jack
External in: 2x 6.3 mm jack
MIDI In/Out1/Out2
USB-B port
Our opinion
While we like the workflow and physical interface of the MC-707, it is very expensive (around $1,000) for what it does.
If you love that console, you might think about getting the cheaper MC-101 and then supplementing with additional gear, such as Korg Volcas, to get other functions you want.
Elektron to the Rescue
Elektron has put out two great grooveboxes: the Digitakt and Digitone. These look and feel like grooveboxes.
Between the visual extremes of the large-screen Akai MPC Plus and the minimalistic Deluge, Elektron has two solutions. Each unit is priced about the same as the Akai unit.
In terms of functionality, here's a quick breakdown of the differences between the two units:
Digitakt
8 internal audio tracks
8 dedicated MIDI tracks
1 × Multi-mode filter per audio track
1 × Overdrive effect per audio track
1 × Assignable LFO per track
Delay and Reverb send FX
Sampling capability
64 MB sample memory
Digitone
8 Voices polyphonic (multitimbral)
Sequencer with 4 synth tracks and 4 MIDI tracks
Multiple FM algorithms
Each voice includes: 1 Multi-mode Filter, 1 Base / Width Filter, 1 Overdrive and 2 assignable LFOs
1 Arpeggiator per track
Polyphonic sequencing
Electron Digitakt
Digitakt Specs
8 internal audio tracks
8 dedicated MIDI tracks
1 × Multi-mode filter per audio track
1 × Overdrive effect per audio track
1 × Assignable LFO per track
Delay and Reverb send FX
Sampling capability
64 MB sample memory
1 GB +Drive storage
1 × Headphones output
2 × ¼" balanced main output
2 × ¼" input
1 × High Speed USB 2.0 port
MIDI In/Out/Thru with DIN sync out
Overbridge enabled
Dimensions: W215×D176×H63 mm (8.5×6.9×2.5″) (including knobs and rubber feet)
Weight: approximately 1.45 kg (3.2 lbs)
Included in the box
Power Supply PSU-3b
Elektron USB cable
Quick Guide manual
For a good critical (and largely favorable) review of the Digitakt, see Ricky Tinez's video:
(Bear in mind some of his criticisms have been addressed by Elektron's latest firmware update.)
Digitone
Digitone Specs
8 Voices polyphonic (multitimbral)
Multiple FM algorithms
Each voice includes: 1 Multi-mode Filter, 1 Base / Width Filter, 1 Overdrive and 2 assignable LFOs
Sequencer with 4 synth tracks and 4 MIDI tracks
1 Arpeggiator per track
Polyphonic sequencing
Individual track length
Parameter Locks
Micro timing
Trig conditions
Sound per step change
Send and master effects
Panoramic Chorus Send effect
Saturator Delay Send effect
Supervoid Reverb Send Effect
Overdrive master effect
Very sharp OLED display (for optimal visibility in dark surroundings)
Sturdy, durable and precise-looking rubber knobs and backlit buttons
Dimensions including controls and rubber feet (W x D x H): 215 x 176 x 63 mm
Weight: 1.45 kg
Akai Professional Force
Specs
Combines step sequencer, clip launch function, sampler and synth engines in a single device
7″ Touchscreen display for control
8×8 Clip launch matrix with RGB LEDs
8 Touch-sensitive controls with graphical OLED displays
4 Powerful and fully adjustable synth engines
16GB Internal Storage (over 10GB of sound content included)
MPC Sample editing
Remix, mash-up, DJ and produce with 6 different track types for all audio, MIDI, CV sequencing and performance needs
2x Audio input for microphones
Line signals and instruments (XLR / TRS combo jack)
4x Audio output (6.3 mm jack)
Headphone output (6.3 mm jack)
MIDI In / Out / Thru (3.5 mm TRS)
4x CV / Gate output (3.5 mm jack)
SD card slot
2x USB-A 3.0 Host Port
1x USB-B 3.0
Link port
Connection for optional 2.5″ SATA drive
Dimensions: 350 x 389 x 72.5 mm
Weight: 3.87 kg
[Specs from Thomann]
Elektron Octatrack
The Elektron Octatrack lies between the extremes of the Deluge and MPC One. Like Akai's MPC it has a screen and fewer buttons than the Deluge. But like the Deluge we see a minimal screen and an overall grittier physical presence.
The Octatrack does have an intricate functionality which you can read about below.
The limited number of buttons and knobs makes the Octatrack look less intimidating. But it means you're going to have to dive down if you want to access its more advanced features.
The Octatrack is much more limited in terms of tracks (only 8 = octa = Octatrack). And it is now 8 (also octa) years old.
Specs
8 Stereo audio tracks
8 Dedicated MIDI tracks
Instant stereo sampling
Real-time Timestretch & Pitch Shift
2 Insert FX per audio track
3 LFO per track
Live-friendly electron sequencer
Contactless crossfader
6.3 mm Headphone output
2x 6.3 mm Balanced main outputs
2x 6.3 mm Balanced cue outputs
4x 6.3 mm Balanced external inputs
USB 2.0 High Speed ​​port
MIDI IN/OUT/THRU connections
128 X 64 OLED Screen
Precise Hi-Res encoder
Durable, illuminated buttons for 50 million keystrokes
Completely compatible with Octatrack MKI projects and data
Dimensions (W x D x H): 340 X 185 x 63 mm (including buttons and rubber feet)
Weight: approx. 2.3 kg
[From Thomann]