From presets to specs, pros and cons, all that Nektar's Pacer can and can't do, Sound-EconoMix's Guide to the Pacer has got you covered.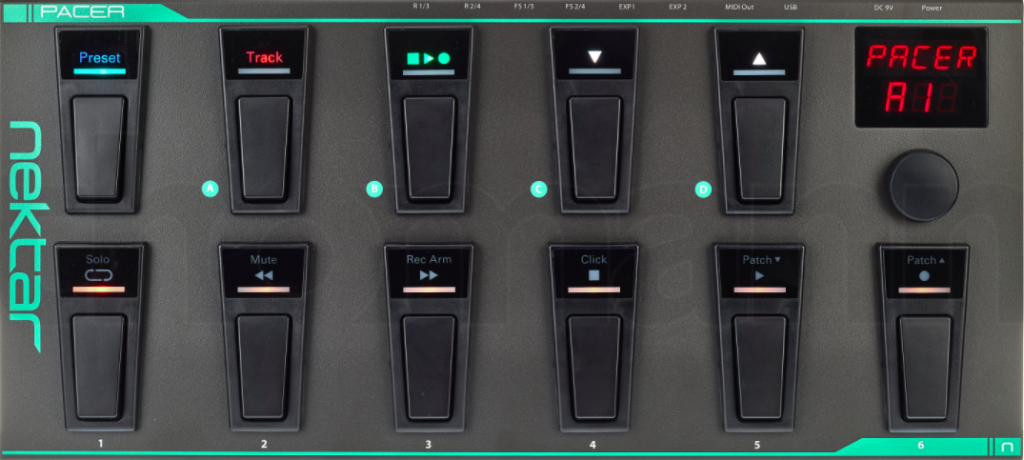 If you're an owner or just thinking about getting a Pacer, this guide will provide you with information and tips to get the Pacer to work for you!
Hey! Join the Pacer Owners' Facebook Group!
See what other users are doing
Troubleshoot
Compare ideas
Pacer Review
Nektar is known as a maker of MIDI keyboards, and they make good ones. So why branch into foot controller? And how do they stack up?
Pacer has real strengths and is unique as both a MIDI and DAW foot controller. It's sturdy, rather easy to learn to use, versatile, and is playable as an instrument.
Most of its faults lie with Nektar's lack of a firmware update and additional customization batches for DAWs like Ableton and gear like the HX Stomp.
The Good
Nektar's Pacer fills in a unique niche among the dozens of MIDI foot controllers on the market. It has a solid build, intelligent design, relative ease of use, and it has a good array of functions.
Integration
Nektar was clear to call this a "MIDI DAW" controller. And it stands out from its competition for having excellent integration with Logic, GarageBand, MainStage, Bitwig, and more.
It also provides out-of-the-box presets that can be used with Line6 and Helix products, Kemper, Avid Eleven, Fractal Audio AxeFX, Hughes and Kettner GrandMeister, Elektron's Octatrack, and Electro-Harmonix's 45000 Looper.
Pacer also has tons of connections (in case 10 programmable pedals isn't enough for you). You can add 2 external expression pedals, and two sets of external pedal jacks can be doubled with a Y-cable to give you four external footswitches and four amp switches.
If you're playing a Line6, Avid Eleven, or Kemper (for example), this saves you having to buy another external footswitch.
And as is hinted in Pacer's integration with Electro-Harmonix's 45000 Looper, this foot controller can be integrated with any effects pedal that accepts MIDI.
Tip: It no secret that the primary difference between some pedals and their more expensive older siblings is the presence of foot controllers (especially in the looper world). Pacer's easy navigation between presets allows you to control a looper, DAW, amp, effects rack, etc. with just the click of a button.
The HX Stomp gives you all the same effects as the Helix, but the Stomp is about 1/3 the price. If you can live with 6 versus Helix's 12 simultaneous effects, a MIDI pedal gives you switches like the Helix at a much cheaper price.
Versatility
You can also program any preset to send up to 16 MIDI messages automatically, which can be a life-saver. So, for example, you can have the overdrive kick in automatically when you select one preset, then turn back down with another.
The pedals can be programmed to the same CC numbers across presets. So if you want your expression pedal 1 to always control volume, for example, that can remain consistent even if all other switches are different.
Build and Visuals
The Pacer is very solid, and its LEDs are great.
The buttons are smooth and, although they don't click, you get tactile feedback when you've pressed to engage the switch. We really like the lack of clicking for quiet gigs.
You can program the LEDs to pick their color and also whether you want the pedal, for example, dim when off and bright when engaged.
While you can color-code your switches, the only text you can input is in the 5-figure LED screen.
Tip: try to use consistent coloring across your presets. For example, you might always have the switch you've mapped to overdrive be red, chorus as blue, and play/pause green.
There are icons (play, record, patch up, etc) on the transport and track modes. These are super clear and helpful.
Pacer as Instrument
One added benefit of Pacer's layout is that it can be played like an instrument. Its footswitches are solid, not clicky, and far enough apart that you can play drum beats or basslines on them without too much hassle.
The expression pedals can also send pitch control information.
Pacer also has a preset for use with a keyboard (D3). These are its functions:
Switch 1: Sustain (CC 64)
Expression Pedal 1: Volume (CC 7)
Expression Pedal 2: Expression (CC 11)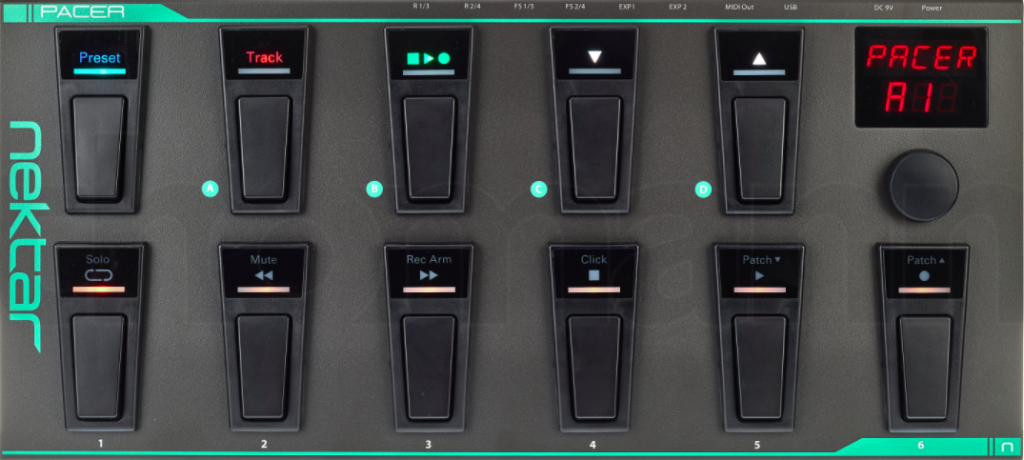 The Bad
If you're playing to Pacer's strengths, it will work great for you. So if you're using supported DAWs and amps or MIDI mapping onto effects pedals, you'll be very happy.
But if you're looking for integration with non-supported DAWs, you may be less content.
The fact is that Pacer is long overdue for a robust firmware update. And Nektar's refusing to offer integration with Ableton Live is really damaging the product's viability. Given the prevalence of improvisational musicians who work with Live, this neglect is just curious.
But see our hacks for using Pacer with Ableton.
There are also some features that you may need that Pacer cannot offer. For example, if you need a long stomp to turn off a looper (as is the case with the HX Stomp's looper), you can't do that from Pacer.
Another large minus for some users might be Pacer's lack on integration with iOS.
See our comparison of the leading MIDI foot controllers.
Pros:
Versatile controller and well-built
Great presets/patches for many DAWs, amps, and effects pedals
Quiet, comfortable pedals
Decent 3rd party editor
Clear LEDs and plenty of space make it a good choice for live gigs
Excellent value
Cons:
Poor support: no firmware update or Ableton integration
Not as many commands per pedal as Morningstar or SoftStep (if your needs are very technical)
Specs
Below are the specs as listed from Pacer's manual.
10 programmable footswitch controls with RGB LEDs
1 Preset footswitch for recalling presets & navigation
2 expression pedal sockets for connecting expression pedals
2 TRS jack connectors for up to 4 external footswitches (requires optional Y-cables to use all 4)
2 TRS jack connectors for switching up to 4 amp functions such as reverb/tremolo/channel (Y-cable for access to all 4)
MIDI output can be used as a USB MIDI interface, for direct MIDI connection or both at the same time
1 encoder with push switch for programming, navigation and • control
2 row LED display
USB for connecting to a computer, USB host or USB power supply (for power only)
DC 9V / 600mA, center negative power supply socket (PSU not included)
RGB LEDs for each footswitch
24 user-configurable presets
2 read-only presets for DAW track and transport control
Up to 16 MIDI messages or relay switches can be activated instantly when a preset is recalled
Up to 6 steps programmable for each control within a preset, each sending a MIDI messages or executing an action
Steps can be sent in one shot when a switch control is pressed, or in a sequence of presses
Option to setup steps as sub presets, expanding preset use beyond conventional use
MIDI LED feedback for MIDI CC messages
MMC and Mackie MCU-support for remote compatibility with almost any DAW
Nektar DAW integration for Transport and Track control complete with dedicated presets and icons
Pacer's Software Editor
Pacer's manual assignment of its MIDI controls is pretty easy and quick to do with their control knob. Still, for larger reorganization, it's easier to do on a computer.
Unfortunately, the folks at Nektar never bothered to make a software editor for the Pacer. There is, however, a very functional third-party app designed by Francois Georgy, available here.
Please note that you must use Chrome or Opera with the web-app.
Here's our tutorial on using Francois' software editor.
What are Pacer's Factory Presets?
Pacer comes with 24 factory presets. You can replace or modify any of them.
Thirteen of these are for use with specific devices.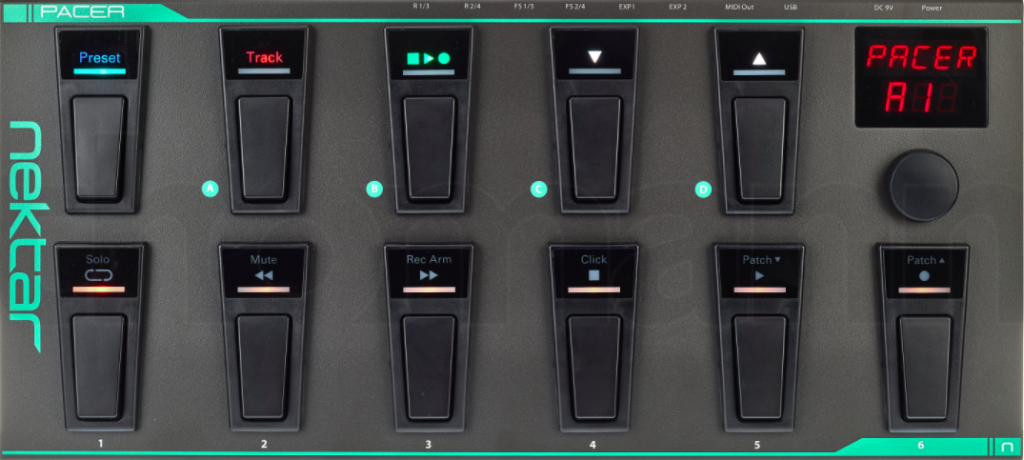 Nektar has also designed patches for integration with the following DAWs, amps, apps, and equipment.
Preset Number
Title
Functions of Switches 1-6
B1
Line6 Helix 1
Assigned to control Helix pedals 1-5, snapshot, set list, tuner and tap tempo. Link to Line6 Presets.
B2
Line6 Helix 2
Assigned to control Helix pedals 6-10, snapshot, set list, tuner and tap tempo. Link to Line6 Presets.
B3
Line6 Pod HD
Controls Pod HD pedals 1-8, tuner and tap tempo. Link to Line6 Presets.
B4
Line6 Pod 2.0/Xt
Turn individual effects on and off on Pod XT. Link to Line6 Presets.
B5
Fractal Audio AxeFX 1
Assigned to switch individual page 1 effects on and off, tuner, and tap tempo
B6
Fractal Audio AxeFX
2 Assigned to switch individual page 2 effects on and off, tuner, and tap tempo.
C1
Avid Eleven Rack
Turn individual Avid Eleven Rack effects on and off, tuner, and tap tempo.
C2
Kemper Profiler
Turn individual Kemper Profiler effects on and off, tuner, and tap tempo. Link to Kemper Profiler Preset.
C3
Line6 PodHD/Helix Looper
Control Pod HD and Helix Looper functions. Link to Line6 Presets.
C4
Fractal Audio AxeFX Looper
Control Axe–FX Looper functions
C5
Elektron Octatrack Pickup
Machine
Navigate Octatrack Pickup Machine tracks and control Looper functions. Link to Octatrack Preset.
C6
Electro Harmonix 45000
Looper
Navigate EHX 45000 tracks and control Looper functions. Our guide to 45000 with Pacer.
D1
Hughes & Kettner
GrandMeister
Switches channels and main features on/off as well as using the multiple steps feature on EXP2:
The pedal controls a different parameter depending on switch 2-5 pressed prior to using it:
SW1= Channel 1-4, SW2= Boost, SW3= Mod FX, SW4= Delay, SW5= Reverb, SW6=Gate
EXP1= Volume(soft),
EXP2= Depending on SW2-5 (press before using EXP2) Gain/Mod FX Int/Delay Mix/Reverb Mix
FS1= Program Up (0-9) / FS2= Program Down (9-0)
Links to H&K GrandMeister Preset and H&K GrandMeister Tone Control Preset.
How do I find Pacer's Patch for my DAW?
When you register your Pacer, you'll select which DAW you'll be using.
Then, when you see the available downloads, including the current firmware, you'll also see the patch for your DAW.
You can only have a patch for one DAW at a time installed on your Pacer.
Learn how to install the patch for Apple's Logic and GarageBand from our tutorial (it also shows how to install downloaded sysex files):
Manuals
These are all of the current manuals and guides for the Pacer. They have individual guides for some DAWs that are available when you register your Pacer and select which DAW you'll be using.
Template
Here's a blank template you can download to keep track your own custom presets.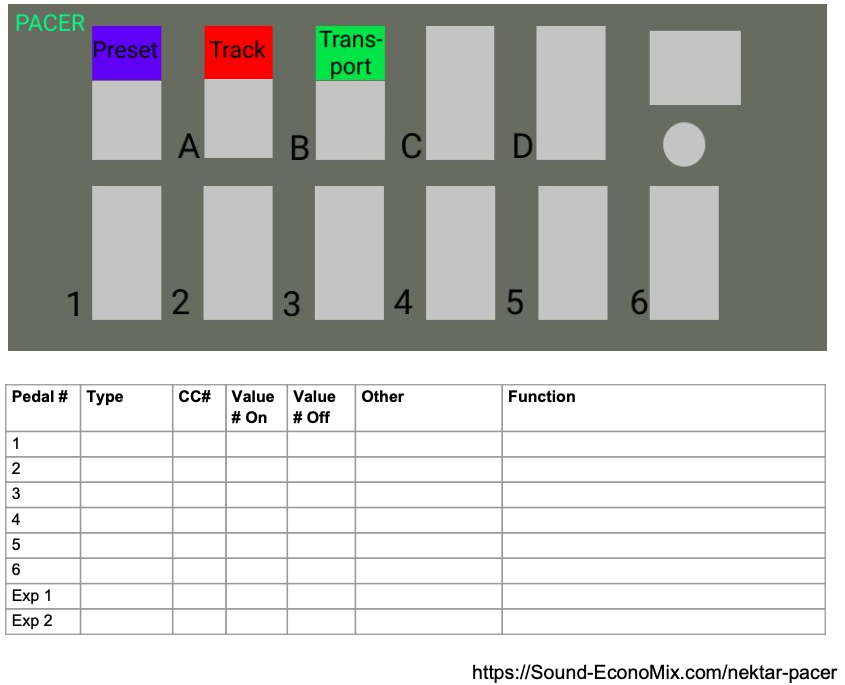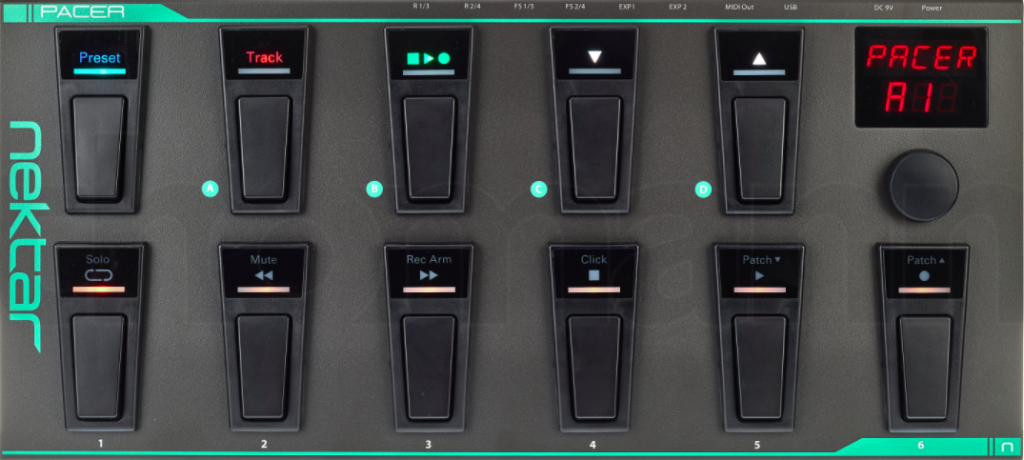 Thanks for reading! If this was useful for you, please consider supporting the site through PayPal.
If you could please use the links, it'll help the site out (and you still get normal prices). Thanks!
Disclosure: Sound-EconoMix is a participant in the Amazon Services LLC Associates Program, an affiliate advertising program designed to provide a means for us to earn fees by linking to Amazon.com and affiliated sites.