One, low-priced app to control multiple DAWs (e.g., Logic, Ableton, and Reaper)

Create your own  templates to control MIDI-modulated gear, synths, effects pedals, soundboards, etc.
Instant control over Novation Circuit
Novation Launchpad-modelled interface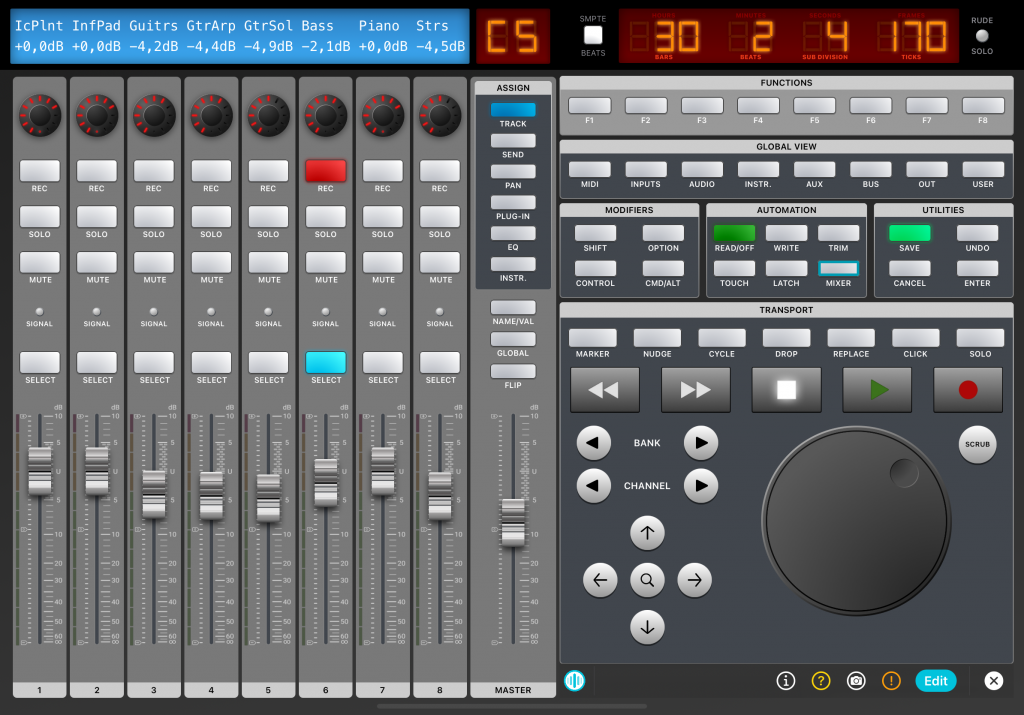 ONE Control is an iOS app by ONE 1nstrument allowing your iPad to substitute for and control a number of items of software and hardware.
For example, you can:
 adjust your DAW's mixer levels
modify the overdrive level on your HX Stomp
program a drum beat on your groovebox
 adjust your global tempo
All on the same screen, all from the same app!
In fact, you can create a custom template and do it all from one screen.
The app comes in several editions (with more in the works):
ONE Control Pro: The complete, full featured version, with everything you need to control you DAW, create custom controllers, Launchpad emulator and much more.
ONE Control DAW Edition: contains only the DAW controllers (half of the price of the Pro edition).
ONE Control Launchpad Edition (coming soon): only has the Launchpad emulator (reduced price)
ONE Control Circuit Edition (coming soon): only has the Circuit controller (reduced price
ONE Control by ONE Instrument has two major functions it can play in your musical life. It works both as a controller and emulator(or replacement) for other gear, software, and plugins.
We'll get into those functions below. But to jump to why this makes us excited, it allows you to spend less:
Time: endless menu-diving and switching between apps, plugins, VSTs, etc.
Space: it's only as big as your iPad, and takes up minimum memory
Money: replace or avoid buying physical controllers like Novation Launchpad or more expensive apps emulating them
ONE Control as DAW Controller
A controller has the ability to control another piece of hardware or software via some shared language, such as:
MIDI: this is the most common "language" that can be used to control most functions on DAWs like Logic Pro and Ableton Live, software plugins like virtual instruments and effects as well as effects pedals like Helix and Chase Bliss.
MCU (Mackie Control Universal) to any DAW or device that supports Mackie Control Universal Control Surface.
ONE Control Pro and ONE Control DAW Edition come with templates that are already programmed to work with most major DAWs. 
ONE Control as Mackie Control Surface
What is a Mackie Control Surface? MCU?
A control surface is a software replica that models a control board. This is the board housing the sliders, buttons, knobs, and wheels where you mix and modify your sound.
Mackie was the original mixing console that could communicate with a DAW. 
Today most  controllers  – and the control surfaces modelled after them – can communicate via a code called Mackie Controller Universal (MCU).
If your DAW or audio device understands MCU, then you get automatic (i.e., plug-and-play) control over major functions.
So, if you press Play or Record on a Mackie controller connected to a device that understands Mackie, that device will follow the commands.
With a Mackie Control surface you can:
Control each channel strip of your session
Record channel automations (volume, pan and other parameters)
Navigate inside your project using markers, jog wheels
Add, remove and edit channel groups
Edit plugins and virtual instruments parameters
A Mackie controller is the universal standard for modulating settings on tracks. 
You're probably used to seeing something like this in your DAW's mixer, because these are modelled on hardware mixers, such as the Mackie. 
A Mackie controller is the industry standard. You'll find one in professional studios around the globe. 
Despite their rather basic software, Mackie controllers can easily cost thousands of dollars. The reason for controllers' price has to do with the cost physical hardware itself. 
Having sliders that automatically reset themselves for the proper position of each song with jerk the cost up. Some brands, like Behringer, cut costs a bit with cheaper components, but then you risk easily damaging the unit.
Having a Mackie Control surface on your iPad gives you the best of both worlds. It's definitely cheap with ONE Control (around $/€5-10 depending on which package you get), but you don't have to worry about cheap knobs and unresponsive sliders when you're using an app.
And like the expensive hardware, you'll find your settings right where you want them for each song.The
Focus: Logic Control Emulator
When used with Logic Pro, ONE Control Pro acts as a Logic Control machine. This is a a spin-off of the Mackie Control Universal (MCU), specifically built for Logic.
As you see by the images, ONE Control's DAW controller is a faithful replica of a Mackie.
The app takes full advantage of most of the features offered by Logic. For other DAWs, ONE Control Pro also works as a regular Mackie Control Universal. 
While the main functionalities, like channel and transport control are basically the same, others, like marker and group management will vary, depending on the DAW's MCU protocol implementation.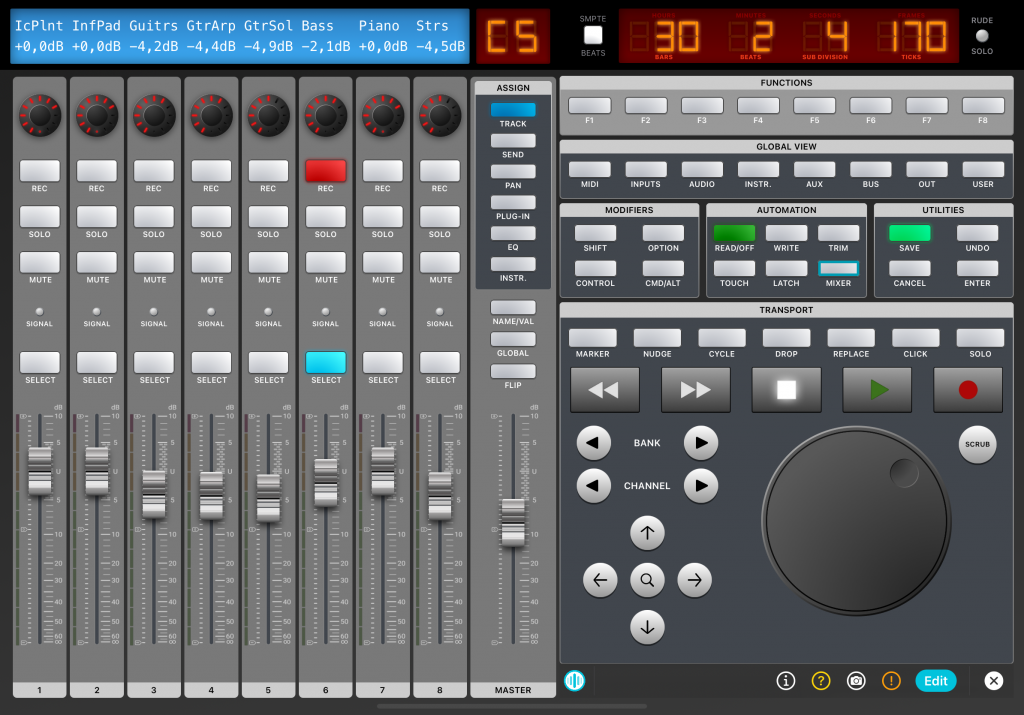 In the video below, you can see ONE Control at work controlling several functions within Logic Pro:
ONE Control allows you to make custom templates for anything you can MIDI map or control by MCU.  
So you can make a single screen to modulate:
Your looper

The effects on your multi-effects pedal

Trigger or change a sequncer

Modify a synth

Enter notes or beats

Control your mixer levels
So while we can look for ONE Control to continue to roll out controllers for gear such as Novation's Circuit and the HX Stomp, Control gives you the ability to make your own.
If you look at the example below, this was created by quickly choosing from the available modules, which include:
Faders
Knobs
LED screen
Buttons
Switches
Pads
Keyswitches
Envelopes
Value Stepper
XY Pads
Pitch bend and Modulation Wheels
Expression pedals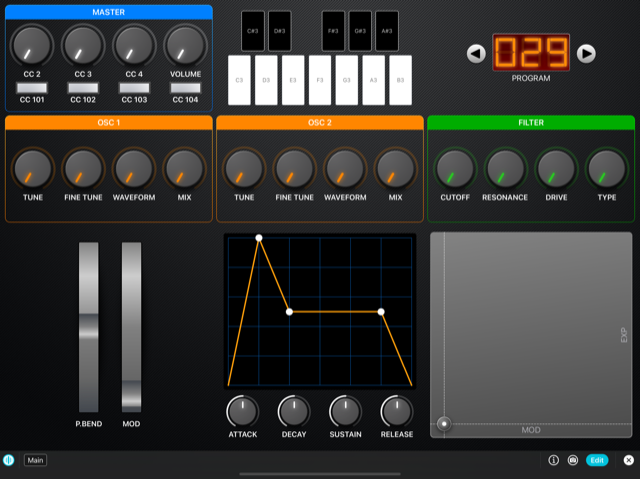 Each of these modules can be configured according to: 
MIDI Messages (CC, Note On/Off, etc.)
MMC commands (Transport, Punch In/Out, etc.)
OSC command
Choose your controller options. Here we see 8 sliders, an XY pad, and a row of knobs. You can select the color and style, MIDI message and channel, end even the background. 
Novation Circuit Controller
Note:

Sound-EconoMix.com has been able to test ONE Control's Circuit Editor.

This controller will be available on ONE Control 1.2 as part of Pro and as a separate Circuit Edition (by the end January)
We love the Circuit, in part because it has a killer dual-oscillator synth engine. But getting into the synth editor, creating, saving, and especially loading patches is a pain. And let's not even get started on keeping track of what the macro knobs are modulating.
Enter: ONE Control. This gives you complete access to the synth engine. You get names for each of the macro knobs. 
Plus, you can read the names of patches, then tweak and load quickly without switching to Isotonik's editor. It can also be used as a performer companion to your Circuit with a full featured two octaves keyboard and drums pads.
Check out our sneak-preview video of the features on ONE Control's Circuit app:
All the Circuit control you've been wanting. Here you can see: the virtual keyboard, drum and synth editors with complete controls visible, macro and mod matrix editors, and some goodies like ADRS visuals and full parameters on the reverb and delay units.
Better information for your effects and mixer levels.
Novation Launchpad Replacement
ONE Control Pro and ONE Control Launchpad Edition also offers a full functional emulation of the Novation's Launchpad X. It is seen by Ableton Live of Logic Pro as an actual Launchpad hardware and gives you all its functionalities, just for few bucks.