If you're looking to get hands-free and do some quick manipulation of your sound, MIDI foot controllers are the way to go.
Foot controllers allow you to modify your gear into the more expensive, foot-controlled version (e.g., Boss RC-30 into RC-300, RC-202 into RC-505, or HX Stomp into Helix LT).
If you've been on the search you know that there are many foot controllers out there. And it can be a confusing purchase (particularly if you're new to the world of MIDI).
But don't fret, we'll cover all you need to know to make an intelligent investment.
We also compare some of the top foot controllers. Our table has everything laid out neatly so you can decide on the best one for your needs.
Study this guide, watch the tutorials, and you'll know what you need to make a sound investment.
MIDI Foot Controller Comparison Chart
Below is a list of the most popular foot controllers below $350/€340. The chart goes in increasing order of cost.
Harley Benton MP-100 / Meloaudio Midi Controller
Behringer FCB1010
Nektar Pacer
[Scroll right –> ]
Singular Sound Midi Maestro Controller
Xsonic Airstep
Morningstar MC8
Keith McMillen SoftStep 2

Message Types
CC and Prog Change
CC; Note; Prog Change; Tap; more through hacks
all
CC, PC, PB, Note On/Off
all
all, including press, release, long press
all
Number of Programmable Switches
10
10
10
6
5
8
10
Expression Pedals or Inputs
2 inputs
2 pedals
2 inputs
1 input
2 inputs
4 inputs
10 (all switches have expression capacity)
Additional footswitch inputs
0
2
4 inputs (2×2)
1
5 adding additional Lite pedal
12
0
Customizable LEDs and/or Pedal Screen
no
no
5-character LED, colored LED per switch; Track and Transport icons
Screen per switch
no
1 screen with dedicated slot per switch
4-character LED
Presets
10
100 (10 Banks, 10 Presets)
24 user configurable presets; 2 read-only for DAW
60 (10 banks of 6 presets)
5 without use of app (practically unlimited on app)
660 (30 banks, 22 Presets)
16
Software editor?
no
3rd party
3rd party
yes; mobile app
yes; mobile app
yes
yes
USB powered?
yes
no USB
yes
no USB
yes; and rechargeable
yes
yes
Simultaneous commands
1
5 program changes & 2 MIDI messages per preset
16 MIDI commands
6 MIDI commands
8 MIDI commands
16 MIDI commands per switch
6 MIDI commands per switch
Bluetooth
no
no
no
yes
yes
no
no
Special Features
Cheap and gets most jobs done
Cheap; Built-in expression pedals.
Sturdy; colored LEDs; MMC and Mackie MCU-support
Programming via app over Bluetooth; individual screens
Full wireless capabilities
Omniports; large screen
Each switch is expression pedal and arrow keys
Manual link
link
link
link
link
link
link
link
Check price
Thomann or Amazon
Thomann or Amazon
Thomann or Amazon
Thomann
Thomann
Morningstar
Thomann or Amazon
Comparison of the leading MIDI foot controllers
What Does a MIDI Foot Controller Do?
A MIDI foot controller (also called a footswitch or foot pedal) allows you to control your music hardware (e.g., effects pedals) and software with the press of a button.
So you can use your feet to turn things on and off, make them louder, or select presets.
A foot controller sends and receives MIDI messages, which is a kind of universal language shared among a lot of music gear.
What is MIDI?
MIDI stands for Musical Instrument Digital Interface. It sends codes that can be translated into any number of functions.
There are different types of MIDI. For example:
Control Channel: sends messages like turn on/off or gradually increase
Note: each note has a MIDI number assigned to it
Program Change: select the next or previous program or bank
MIDI codes can be assigned to trigger certain functions on an effects pedal (like HX Stomp), amp (like Line6), or DAW (like Ableton or Logic). This process of assigning is called "mapping."
You can map a certain MIDI signal to turn the record button on and off in Ableton, for example. Or you can map an expression pedal to control your main volume or the level of distortion.
Why use a MIDI Footswitch?
If you're playing live or need your hands free to play your instrument, being able to MIDI map to footswitches is a lifesaver.
Musicians use MIDI foot controllers for many functions, including:
Turn recording on and off and control levels with your feet in Ableton or Logic
Select your song, preset, or batch with a Helix multi-effects box
Play a bass line or drumbeat live using your feet
As a sustain pedal on a keyboard
Tap tempo or turn click track on/off
Control your keyboard, guitar, drum track, and EQ all from one space
Saving space and money: often the big difference in more expensive versions of pedals is the presence of footswitches.
One foot controller can control many pedals: that means you save space and money.
Quick rundown of the controllers
Let's unpack that table above, then look at each of the pedals individually.
You can get a good MIDI foot controller for as little as $100. They can have basic messages for turning pedals on and off and changing batches/presets.
The Pacer and MC6 (not reviewed above but the smaller version of MC8) are wonderful all arounders, but quite different. MC6 has more features, and the Pacer is good for DAWs and being pounded.
MC8 and SoftStep2 are similarly priced and give you options galore without a headache. But they are very different pedals.
As you'll see, the size of controllers can vary greatly: from the Morningstar to the Behringer FCB 1010 at 27″.
Harley Benton MP-100 / MelAudio MIDI Commander
If you're looking for simple on/off and program change functions, the MP-100/Commander is reliable, sturdy, and cheap.
(Note: Harley Benton's MP-100 and the MelAudio MIDI Commander offer the same functions and so are considered together.)
These controllers have some presets for easy integration with Kemper and Ax FX among other amps, and can also be customized to work with anything that takes MIDI Control Change and Program Change messages.
For guitarists, that might do the job just fine. If you're looking to turn switches on and off and don't mind programming by hand, this box will do the job.
Specs
10 Programmable foot-switches
2 Expression Pedal Inputs for Volume, Wah or other effect parameters (Expression pedals are not included)
Sends Program Change & Control Change Midi commands via the USB port as well as via the MIDI output
Already contains preprogrammed configurations for popular software or devices, e.g. Bias FX, JamUp, Kemper or Ax FX
2 Expression Pedal Inputs: 6.3 mm Stereo jack
MIDI out
USB
Powered by 2x AAA batteries or AAA batteries (not included)
Built-in charging function for batteries
Dimensions (W x D x H): 286 x 110 x 65 mm
Weight: 950 g
Includes MIDI cable and USB Type B cable
(Specs from Thomann)
Pros:
Simple, clear functions
Inexpensive
Well-built
Cons:
Limited functions
Limited visual support
No software editor
Here's an overview of the MeloAudio MIDI Commander (again, basically the same as the MP-11). As you'll see, for some applications it can do all you need for a cheap price.
Behringer FCB1010
Built like a tank – but slightly smaller – the FCB1010 foot controller has worshiped beneath the feet of many a musician.

The FCB1010 is "modelled" on (or rips off) the Roland FC-300, and is a fraction of the cost.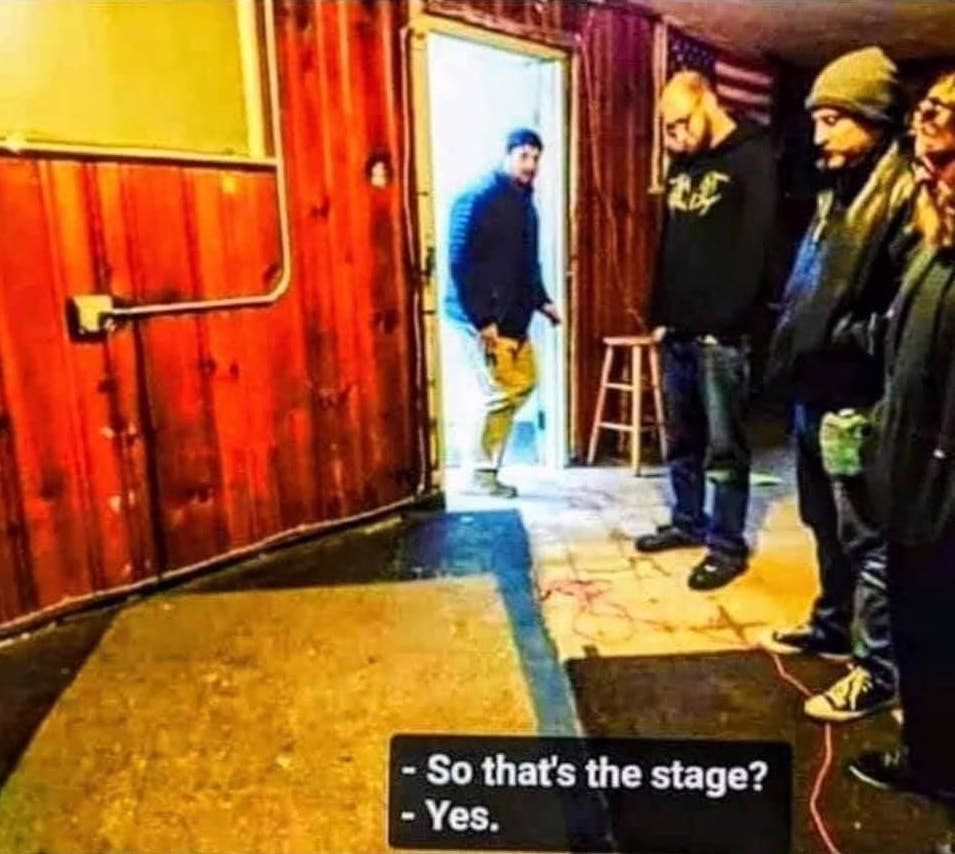 Cheap never goes out of style, but girth does. This is a monster (wider than a big TV), and your bandmates might not take kindly to your taking valuable stage floor real estate.
If you don't mind getting a little dirty, there are unofficial (UNO) firmware updates, chips, and general hacks for the FCB1010 to get it to do most anything.
Due to the size, the FCB1010 doesn't get tons of love, but with the UNO hacks it can be a very inexpensive solution to your foot switching needs.
Specs
MIDI Foot Controller with two expression pedals and MIDI merge function
10 banks with 10 presets (editable); presets for BEHRINGER amps included
Two expression pedals
Controller number and range: freely configurable in MIDI Channel
Simultaneous transmission of five MIDI program changes and two MIDI controllers per preset
MIDI note command for trigger and tap-tempo applications
Two programmable galvanically uncoupled switching sockets e.g. for the channel switching of a guitar amplifier
MIDI merge function allows soft through and mixing of controller and input data
Built-in power adapter
Weight: 3.5 kg
Dimensions (W x H x D): 687 x 60 x 221 mm / 27″ x 2.4″ x 8.7″
(Specs from Thomann)
Pros:
Spacious board; 2 built-in expression pedals
Good online community
Limited immediate integration with other hardware
Cons:
Big and heavy
May require some hacking to get it to do what you want
Limited visual support
Roll up your sleeves if you want to manually program this baby! Here's a tutorial to walk (crawl?) you through the process.
Nektar Pacer
With the Pacer, we jump ahead in terms of options, ergonomics, visual feedback, and general sleekness.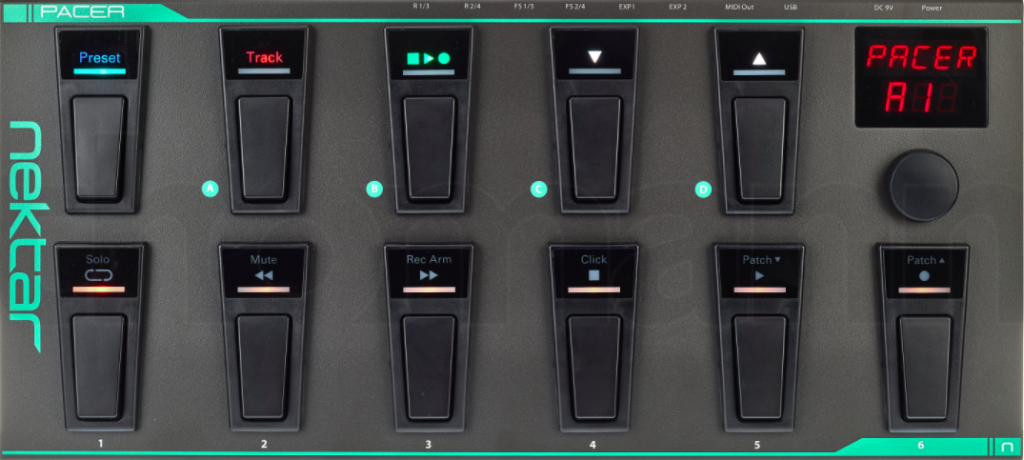 Nektar took their keyboard experience to the ground with the Pacer. At its price bracket, it doesn't have a clear competitor.
Pacer is sturdy, easy to read, and can be programmed to do most anything you want (unless you're super technical).
Users of supported DAWS will find the toe's access to your track and transports functions to be a dream come true.
Unfortunately, this integration doesn't extend to Ableton (although we've conceived of some good workarounds). Nektar has not come out with an updated firmware in years, leaving you with an excellent piece of hardware with no ongoing support.
If you're looking to play bass lines with your feet, Pacer (along with the FCB1010 and SoftStep2) is a great option. It has silent pedals that you can color-code. They're close enough to the ground and far enough apart that you can play and sing.
Specs
Robust metal housing
Track and transport control with Nektar DAW integration
Support for e.g. Bitwig, Cubase, GarageBand, Logic, Nuendo, Reason, Reaper and Studio One
MCU for all common DAWs and Pro Tools Setup
Fully programmable MIDI controller
24 Presets – banks A-D per memory 6 presets
Up to 16 MIDI commands can be sent per Preset
10 Programmable footswitches
4 Programmable external footswitches (optional)
2 Programmable external expression pedals (optional)
4 Programmable relays
1 Programmable encoders
The footswitches can be programmed to send up to 6 commands when activated or in sequence (one after the other)
RGB LEDs offer multicolor status displays (freely programmable)
Dedicated icons for Nektar DAW integration
MIDI Machine Control (MMC)
MIDI output for external hardware control or for use as USB-MIDI interface
USB Class Compliant (no driver needed)
Powered by USB host or USB power adapter
Connection for external 9 V power supply (middle negative)
Presets for popular guitar MIDI devices such as Line6 Pod and Helix, Avid Eleven, Kemper Profiler and AxefX
MAC (OS X 10.5 or higher) and PC (Windows XP, Vista, 7, 8, 10 or higher) and Linux (Ubuntu)
Nektar DAW integration on Windows Vista, 7, 8, 10 and Mac OS X 10.7 or higher
(Specs from Thomann)
Pros:
Versatile controller and well-built
Great presets/patches for many DAWs, amps, and effects pedals
Quiet, comfortable pedals
Decent 3rd party editor
Clear LEDs and plenty of space make it a good choice for live gigs
Cons:
Poor support: no firmware update or Ableton integration
Not as many commands per pedal as Morningstar or SoftStep (if your needs are very technical)
Here's our tutorial on using the 3rd party software editor.
http://support.nektartech.com/Support/pacer-support/Creating-and-Customizing-Presets-for-Pacer
Morningstar MC8
With an easy to read screen, incredibly versatile omniports, and a great software editor and online community, Morningstar's MC8 has become the darling of many musicians.
Features

30 dual-paged Banks of 8 switches
Quickly access 16 presets per bank by toggling page. That's 480 preset slots to store anything you need.

Omniports
4 x 1/4 inch ports that can be individually set as MIDI outputs, Aux switch inputs or Expression pedal inputs.

Large LCD Display
Interactive real-time visual feedback on important information such as current bank, active preset and expression pedal position. All designed to help you perform better.

Simultaneous MIDI Control
Send up to 16 different MIDI messages with a single switch press. Control up to 16 different MIDI devices via 16 unique selectable MIDI channels.

Name your Switches and Banks

All switches and banks can be named so you always know exactly what they do.

User Selectable MIDI Message Types
Select from more than 20 MIDI message types and functions including PC, CC, Note, SysEx, MIDI Clock and many more.

Built-in MIDI Clock

Sync all your time-based effects via tap tempo or pre-set tempo with the built-in MIDI Clock function on the MC8. Eliminates the need for a separate MIDI clock device.
Action-Based Control
Send different messages with the same switch depending on what action you perform on it – Press, Release, Double Tap, Long Press and more

USB Class Compliant MIDI
Control any of your favourite DAWs and music software. Compatible with Windows, OSX and iOS.

Desktop Editor
Downloadable or Chrome browser-accessible editor allows you to program and name your switches and banks quickly and easily.

Technical Specifications
Enclosure Dimensions:
224mm x 125mm x 50mm
Powered by (any of the following):
9-12V DC Center Negative (min 250mA)
USB Power
9-12V AC/DC MIDI Phantom Power via MIDI pins 6 & 7
Hardware:
Angled anodized aluminium enclosure
8 x Soft Touch switches
40 x 4 character LCD Screen
Connections I/O:
4 x Omniports (MIDI output, expression pedal input or aux switch input)
1 x DC power input
1 x USB Type B; carries buss power and MIDI (class compliant)
1 x 7-pin MIDI Out/Thru; carries phantom power via pins 6 & 7
1 x 7-pin MIDI In; carries phantom power via pins 6 & 7
Pros:
Excellent design: compact with enormous options
Great community and customer support
Great integration with Helix, Line6, etc
Intricate, easy-to-use software editor
Cons:
Screen may be too small for some gigs/players
Button clicking not great for quiet gigs
Nektar Pacer vs Morningstar MC8
In many ways, the Pacer and MC8 are winners to our ears and eyes, particularly from the guitarist's/bassist's point of view.
Although they have specific strengths and weaknesses, the MC8 (or even the cheaper MC6) comes out stronger in many ways.
So, even though you'll pay more for it, here are some advantages of the MC8 over Pacer:
4 Omniports (MIDI outputs, Aux switch inputs, or Expression pedal inputs)
Phantom powered and can phantom power
More storage for presets
More versatile: can send more specific MIDI messages and special functions (e.g., double tap)
Great user community and actual customer support
For those reasons, MC8 just might be a winner at the $350 and below bracket.
But there are still definite qualities that the Pacer has over the MC8, and these shine in specific situations:
Musicians using DAWs and Amp Patches: if you're using one of their supported DAWs or apps (e.g., Logic, GarageBand, or Mainstage), you get instant mapping for Transport and Track controls, and it is wonderful. These are always a click away in any preset, which is perfect if you perform through/with your DAW.
Also great factory presets for Helix, Line6, etc.
Live, thrashy musicians: if you need to smash the right pedal fast and don't want to worry about hitting the wrong one, that's a good reason to consider the Pacer. Even if you're wearing boots, there's plenty of room.
That big screen on the MC8 would also be an expensive repair if it got cracked. Hold on to your beer bottles.
Quiet, non-thrashy musicians: Pacer's pedals feel great and they are incredibly quiet. No clicking, but the input is clear.
Visual ease: Pacer's LED's lights are incredibly easy to see. In the Transport and Track settings, you get icons showing you what you're doing, which is great. Otherwise, you can pick your LED color, and they toggle between dim and bright. However the Pacer's LED display is limited to 5 characters. Morningstar's has more characters and flexibility.
So, we don't want to tell you what to buy, but advantages of the Pacer are quick integration with some DAWs as well as space and clarity for on-the-fly stomping.
Morningstar's entire lineup has more options with a great, easy-to-use editor and community.
Xsonic Airstep Smart Controller
The newest kid on the block is Xsonic's Airstep. Its big boasts are wireless control and quick programming and integration through its mobile app.

Airstep is a dream-come-true for musicians who've been wanting a wireless MIDI foot controller and who don't mind needing access to their phone or tablet during a performance.
For the rest of us, Airstep has some strikes against it. It has very little visual feedback on the unit itself, so it's easy to get lost among your presets. It also only has five switches, and you're encouraged to buy the Airstep light for another five.
In truth, if your entire rig is not wireless, having a wireless foot controller does little for you. With very little on-board (only 5 sets of presets can be stored on the unit itself, no text LEDs), you're left at the mercy of your phone and Bluetooth connection.
Specs
Wireless
Controls and switches effects pedals, hardware effects and amplifiers with MIDI input or relay footswitch input as well as DAW programs and apps on the mobile phone, tablet or computer with Bluetooth or USB
Integrated battery offers up to 300 hours of wireless operation between charges
Sends all kinds of MIDI messages (via 5-pin MIDI, USB or Bluetooth), HID messages (Bluetooth) or classic foot switch commands
Sends up to 8 different commands with one push of a button
3 Selectable switching options (press, release, long press) to send different commands
5 Programmable foot switches
Expression pedal input supports TRS and RTS types
Intuitive smartphone app for editing all settings
30 m Range for wireless communication
Power on / off switch
The battery can be charged with a 9V DC power supply unit (not included) or with the included USB barrel connector adapter charging cable
Robust aluminium housing
System requirements: iOS 10 and higher, Mac OS X 10.6 and higher, Android 4.0 and higher, Windows 10
Dimensions (L x W x H): 300 x 70 x 45 mm
Weight: 700 g
Includes USB-C OTG adapter, USB barrel connector adapter charging cable and USB cable (A-B)
Connections:
2 x Input for expression pedals: 6.3 mm stereo jack
2 x Output for relay foot switch: 6.3 mm stereo jack
1 x MIDI input: 5-pin
2 x MIDI output: 5-pin
1 x USB Type-C connection
Power supply connection: 2.1 mm x 5.5 mm barrel connector, polarity (-) inside
Note: Register your product at www.w-distribution.de/Warranty and extend the guarantee to 4 years.
Pros:
Wireless with Bluetooth capacity
Relatively inexpensive
Promises a large number of presets customized for different gear
2 MIDI outs
Cons:
Over-dependence on app for live gigs
Very limited visual feedback if away from the app
Only 5 switches without Lite extension

Singular Sound Midi Maestro Controller
In many ways, Singular Sound's Midi Maestro checks many boxes. It's sturdy, has screens for each button, and covers the major functions.
Although the Midi Maestro is really intended for integration with Singular Sounds other products – namely the Beat Buddy and Aeros Loop Studio – it can still function as a reliable MIDI foot controller.
And it is one of the few controllers with Bluetooth capacities. It also has an easy to use app. (Pay attention, other manufacturers!)
The Maestro is more limited than the MC8, Pacer, and SoftStep in most ways, but it has some real pros:
sturdy
easy to use and program (in part because of limited options)
easy-to-read screen for every single button
If you are married to the Beat Buddy and Aeros Loop Studio, then this is a natural fit. But at this price, there's not a great reason to buy it compared to the MC6 or MC8 or SoftStep2.
However, if that simplicity and great mobile/tablet to foot controller via Blutooth connection is just what you need, then the Maestro is a winner.
Specs
Singular Sound Midi Maestro Controller
Easy to use MIDI Foot controller; presets for popular gear; easy customization
Customizable high visibility screen for each button
10 active pages per preset; sends up to six MIDI commands in a single press
Mobile app to set up MIDI enabled devices
Daisy chain MIDI Maestro's together for unlimited control
Expression pedal & extension pedal ports; Controls: 0
Display: 6 x customizable
Footswitches: 6
Connections: 5-Pin MIDI In & Out, Expression Pedal (1/4″ TRS-Jack), Extension Pedal (1/4″ TRS-Jack),
Power Supply connector: Barrel Connector 5.5 x 2.1 mm, center negative; powered by a 9 V DC Power Supply (included)
Dimensions (W x D x H): 213 x 146 x 48 mm (8,38″ x 5,75″ x 1,88″); Weight: 510 g (1,13 lbs)
(Specs from Thomann)
MacMillan SoftStep2
For some real out of the box thinking, meet Kenneth MacMillan's SoftStep2. This is a nearly limitless, reported indestructible strip of MIDI magic.
Every single switch can perform any MIDI function you want, even as an arrow key. Unlike all of the others, these pads are also velocity sensitive (and each can function as an expression pedal).
If you were just to look at functions, the SoftStep2 has the most. You're spoiled for options, and that comes with a rather steep learning curve.
Or so it seems.
The manufacturers anticipated MIDI-weary users and have made two software editors: a simple one and a pro one. This means that if you want to have rather simple functions – say 6 toggle switches, 2 expression pedals, and 2 program change switches – you can program that rather easily.
And if you want the lights to dim in inverse proportion to the interval of your pitch bend, which also modulates your overdrive…well, you can do that too.
Visually, the SoftStep couldn't be further from the landing strip-sized, small amp-weighing FCB1010. But it's just as tough – well, tougher actually.
If you're looking for the tactile feed back or the click of a sure-footed stomp, you won't get that here. And really the nuances of the 4-directional pedals (if you use that option) call out for socks more than Frye boots.
I mean, it is called the SoftStep, after all.
Still, there is plenty of room to step and stomp on the SoftStep. While it doesn't have screens or even color-coding for each pedal, they are enumerated and very clear to read.
Specs
10 Illuminated cross-shaped, pressure-sensitive buttons
Raised rear button row
10 x Two-color LEDs
4-Character LED display
Control of controller data by up / down and right / left movement
Up to 6 commands per pad: note, CC, pitch bend, program, MMC, HUI or OSC
MSB & LSB Pitchbend support
Special adaptation to the Kemper Profiling Amp
Power supply via USB
Class Compliant
Robust, stage worthy construction
Housing: carbon / fiberglass
Graphical interface for programming the hardware
Compatible with MAC OS, Windows, Linux, iOS and Android
Dimensions (W x D x H): 445 x 107 x 25 mm
Weight: 0.54 kg
Including Softstep Software Suite
(Specs from Thomann)
Recommendations
You know your needs better than anyone. In light of your musical set up, these are some things to consider.
If you're looking for some quick on/off messages, the MP-100/MelAudio footswitch will do the job. The FCB1010 is also a good, large, heavy option.
For around double the dough, the Pacer or MC-6 give you a lot more growing room.
For Line6/HX Stomp and other multi-effects units and amps, the FCB1010, Pacer, MC-6/MC-8, or SoftStep2 will do you nicely. That's a range from around $120-$360.
The Morningstar pedals (MC3, 6, and 8) are outstanding. Their editor is easy to use, and the MC8 in particular performs many functions and has many options that make it well worth its price. For ease of use with Helix/HX pedals like the Stomp, the MC6 and 8 are ideal.
The advantage of Nektar's Pacer over the MC8 has to do with its size (in some scenarios) and a layout making it more conducive to fast-action stomping. If you're using supported DAWs and want quick shifting between track, transport, and custom presets, Pacer has real advantages there.
Pacer is missing a factory-designed editor and is painfully overdue for a robust firmware update.
The Rolls Royce in terms of options is Keith McMillen's SoftStep2, and it's also the most expensive of the foot controllers reviewed here. Still, it is an incredibly versatile pedal, a great value, and an impressive piece of technology.
For tech geeks, the MC8 and SoftStep2 are about as good as it gets. For improvisers who want a one-pedal-to-rule-them-all, SoftStep's consolidation is a great strength.
The SoftStep2 does have very limited visual information (no text, no icons), which puts it at odds with the immense diversity of actions you can get from the pedals themselves. If you're working with a computer screen or have a rather simple setup, it's no problem. But if you're on stage and switching batches with different assignments per preset, you might run into trouble.
Wrapping it up
As you see, there is no one pedal to rule them all. But, because of their diversity, there is a pedal that is probably pretty near perfect for you.
So while there are a couple of pedals that seem like clear winners in terms of options, they might not be your best bet if you're playing with a DAW or needing more visual information.
Be honest about your needs and also your desire to spend time with a new technology. Having a thousand functions doesn't matter if you only need two.
All of the devices here have good resale value. So if it turns out that your pre-search wasn't perfect, you can still get most of your money back and go a different direction if you like.