Official Announcement from Novation!!
On February 3, 2021 Novation released news that we will indeed see a new Circuit (or Circuits!).
We have to wait until February 9th to see what's in store!
You can watch their official video on Novation's Facebook page.
It seems that – as we predicted – we have a new Novation Circuit on the way.
Or two, to be exact.
On December 31, 2020 Muziker.sk posted images and the price (€415) of Novation's two new pieces of hardware. These were advertized as Novation's Circuit Tracks and Circuit Rhythm.
Circuit Tracks looks and functions more like the original Circuit. It has the two synths oscillators and four drum tracks. But now the enticing MIDI 1 & 2 pads replace those space-hogging Sidechain buttons.
Circuit Rhythm would be an enormous answer to numerous requests for more sampling options on the Circuit. As it is the newest direction for the Circuit family, we'll start there.
Newsflash! Second leak with Circuit in Hands
We got ya now!
Telekom Electronic Beats tweeted an image of the mysterious Circuit Tracks in Stimming's lucky hands.
That is, a real Circuit in real hands.
The  Circuit Tracks conforms to the leaked digital rendering discussed below. 
But we have to eat our words on the new Circuits being released at NAMM. That didn't happen. 
Still, looks like we'll be holding two new Circuits soon!
Circuit Rhythm
With Circuit Rhythm, Novation would be making a big step into the sampler/groovebox competition. While we're waiting to experience the sound quality, it appears that Novation has been thinking about this a while.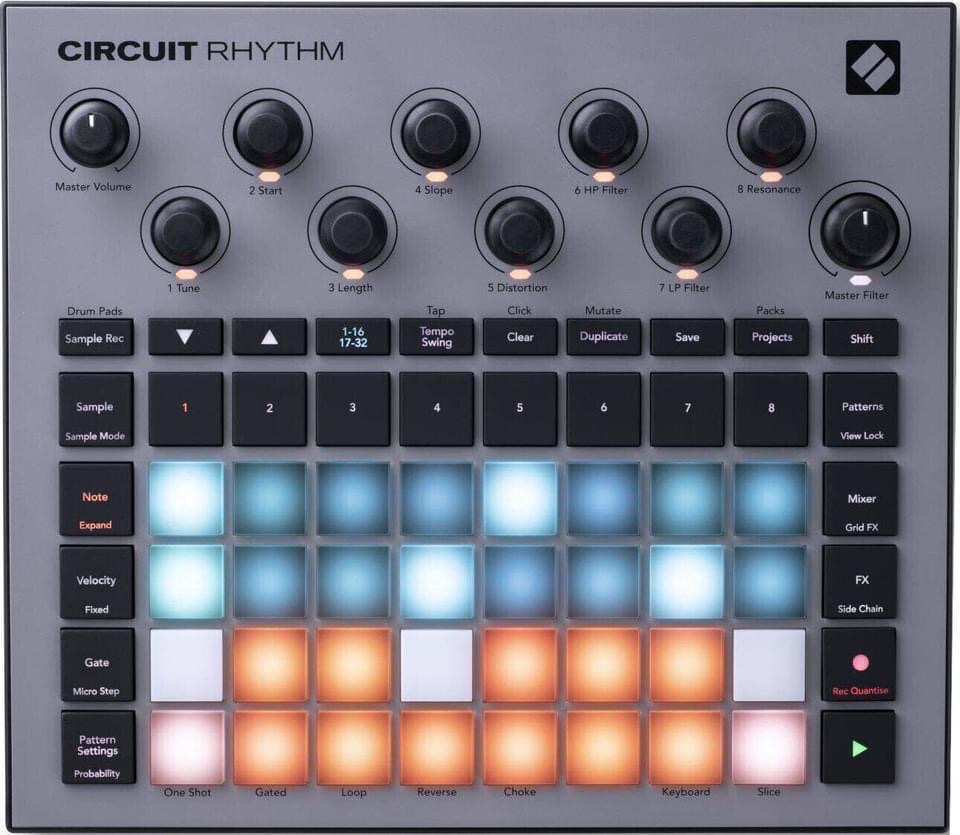 Especially exciting is the Sample Record option and stereo sample-ins on the back.
While there is no screen, presumably there will be an app for quick sample editing. The lack of a screen has made some unhappy but here are two points to consider:
Have no screen keeps cost down (including cost of one more thing to damage and repair)
It is possible to use the pads for functions that are normally on the screen, such as setting the cut-off point. See Synthstrom Deluge as an example.
Rhythm is the name of the game here, but this groove box has some melodic potential as well. Expect to see pitched sampling available, as well as the splicing that Circuiteers were wanting on the original Circuit.
The image above was not specified for the Rhythm or Tracks, but it is more likely that only the Rhythm would have those two inputs for a sample in.
A bigger curiosity, and one that has many thinking this whole fiasco is a hoax (see theories below) is the presence of those big-ole 5-pin MIDIs. Would Novation really step back in technological time?
Circuit Tracks
Circuit Tracks seems to be something of the version 2 of the Circuit we'd been expecting. It answers some desires from the Circuit community.
For example, we are now looking at the possibility of two more tracks. These would be MIDI track allowing cooperation with two external MIDI devices.
And there's also the likelihood of that much wanted SD card slot.
The parameters are now labeled on this image, addressing some frustrations with using the synth engine in the Circuit. But will they be limited to only those parameters? Not likely given the massive versatility of the synth editor.
We also see that some functions that were added with later firmware updates are included on the label here.
Competitors
Now that we're looking at revamped Circuits, who will they be competing with?
A new Circuit brings along with it a new price. If we are indeed looking at two Circuits, that is a move with some precedent (see the Korg Electribes below). But it also means, if you want all that functionality, you're looking to spending close to $1,000.
That's the same as the Synthstrom Deluge and much more than an AKAI MPC. See our page on the more expensive Grooveboxing Match to see what awaits at the above $600 price range.
Korg Electribes
The new Circuits follow a very similar division to the two Electribes into separate synth- drum and sample-focused grooveboxes.
Circuit is missing the Electribes' screens and XY pads. However these Korg products have wide complaints about menu diving and a lack of support from Korg.
While the blue Electribe might not be as tempting to those considering Circuit Tracks, the Red Sampler is a fierce competitor. 
Priced only marginally more, the Red gives a screen that is immensely helpful when dealing with samples. If the Circuit Rhythm is released as the image leaks, how would you know which sample you're working with? Can the beginning and end points be set with any precision.
Volca Sample
Volca Sample is a super-compact, sampler with a sequencer. It is priced at around a quarter of the Circuit Rhythm's leaked price of €415. 
Like the Rhythm, the Volca Sample has no screen. But it has many of the same features. And it is a lot cheaper.
It's part of Korg's Volca series. Don't let the size fool you…these little boxes can unleash some nasty sounds.
What is this leak?
There are a few theories on the leak, and whether it is even real.
The facts
On December 31 the website Muziker posted photos and pricing for the Circuit Rhythm and Circuit Tracks. Musiker is a 100% legitimate supplier in Slovakia with branches throughout Europe.
The posting was taken down without explanation within 24 hours.
The 3 Theories of the Leak
There are at least three viable theories for the new Novation Circuit 2021 "leak." 
1. Could be real.
2. Could be fake. 
3. Could be something in between.
Get out your tin-foil hats, y'all, cuz we're going down the rabbit hole!
 1. This is Real Leak
Muziker received advanced images for Circuit Tracks and Circuit Rhythm with express orders from Novation not to post anything. But they did.
Novation was not happy and told Muziker to take down the images.
Someone pieced together and photoshopped (fauxtoshopped?) two non-existent Circuits.
Perhaps they cut some corners. For example one of the buttons isn't labled.
And obviously those pads are not real. They were photoshopped in. (More like fauxtoshop…right, guys??)
But the fact is this is a 3D-rendering. According to my digital image guru source, these take a long time to make. And this is professionally made.
So effects like the shadow and light sources can be added into the image, as we see in the image. And you can add in LED pads that will be recognizable as such.
3. This is a PR Stunt
It is also possible that this is just a PR stunt. Maybe Muziker wanted some attention? (They certainly got it!)
Or it can be that Novation is doing a market testing strategy. Circuiteers are giving them plenty of free feedback on the Circuit Track and Circuit Rhythm.
If Novation leaked a protype, or just a sketch, they can take this feedback to make improvements to the Circuit before laying down serious cash on the machines.
So, is this the new Circuit? Or just a photoshopped gag?
1. Fact is, the (original) Circuit is out of circulation. 
Major dealers, include Thomann and Amazon, are sold out of Circuits and have no news of re-stocking.
  And even Novation's website is out.
2. Novation has not updated Circuit's firmware in over a year. This signals that they are moving on.
3. The move toward two Circuits makes financial sense for Novation.
4. The advances on Circuit Track look like what we might expect from a Circuit version 2 if sampling options are not going to be included.
So, it is unlikely that this new Circuit is a complete hoax.
The question remains whether the leaked images were part of an information/feedback-gathering campaign by Novation. There's no way at this point to tell. We can only say that such a move is out of character with what we've seen so far from Novation.
In our opinion, this is a legitimate leak. Although it misses the Christmas rush, we wouldn't be surprised to see the new Novation grooveboxes revealed at the music Gear Expo 2021 (Jan 29-30th).
Novation is due for a Circuit revamp. Circuit Tracks is not a radical departure from the original Circuit, and for many Circuiteers, that's a good thing.
And the SD card, two new MIDI Tracks, and audio in (if that image is indeed for the Tracks) make for some great improvements to a serious groovebox. Perhaps the synths will be easier to tweak as well.
Circuit Rhythm adds sampling features, but many were hoping to see these included on the new Circuit. And how would Circuit Rhythm stack up against cheaper, smaller units like Korg's Volca Sample or the screen- and XY-pad-endowed Electribe Sampler?
Circuit Rhythm seems like the harder sell. Perhaps Novation will roll out a strong app to grease the workflow.
What do you think? Let us know in the comments below!